Here are your bass listings for

Massachusetts

Contact Person
Peter Tillotson
Reference Number= 294
781-307-1146
Click here to leave feedback.

ptillotson@verizon.net
Description of instrument(s)
Delivery available to Eastern Massachusetts 1. Christopher plywood-DB103T, Spirocore Orchestra, height adjusters, Full Circle pickup. 2. Shen SB 180 Hybrid, Spirocore Orchestra, height adjusters, Full Circle pickup. Bow: Gage Metropolitan, french Amps: 1. GK MB500 head, Euphonic Audio Wizzy 10 or Euphonic Audio 210. 2. Polytone Mini Brute III, 15" combo Microphone: Audio-Technica ATM-350 clip-on.
Feedback for this person

Contact Person
Lynn Lovell
Reference Number= 180
413 247-0024
Click here to leave feedback.

lnluvl@crocker.com
Description of instrument(s)
Many nicely set-up basses to chose from. Jusek, Kolstein, german, Kays with adjustable bridges. Helicore Hybrid , Spirocore and Obligato strings. Realist, Underwood, and Fishman pick-ups available. French & German bows and Mooradian bags. Small studio, personal attention. I will deliver and pick-up the bass and orient you to the area. I am in the Northampton area and can serve the Springfield and Hartford areas. Prices are very reasonable and negotiable.
Feedback for this person

Feedback

Posted on 09-21-2015 by oscar westesson
Lynn was exceptionally pleasant to deal with. She had many basses that I could try out, and I found one that was perfect for my needs. She was super friendly and easygoing, and gave me some tips on the region. I will definitely call her if I need a bass in the western Mass area again. -Oscar Westesson





Don't see anything that you can use? If your gig is close to the border, check the surrounding regions for a listing.

If you end up finding a bass there, please tell the owner about this site.

Try Another Region.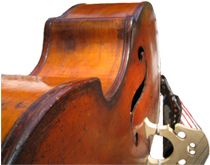 About this site
. This site is
not
a site where you can place an order. It is a place where you can find a list of people to call or email. I don't take any responsibility for the transactions between the musicians who meet through this site. Please use the site responsibly.
Contact Phil
Website design by
Phil Palombi
©2005
www.philpalombi.com
This is a free service, but I do accept donations to help out with the hosting fees. Thank you in advance!