Here are your bass listings for

New Jersey

Contact Person
Craig Akin
Reference Number= 299
9176571004
Click here to leave feedback.

craig@slapfiddle.com
Description of instrument(s)
Shen SB-100 upright bass. Adjustable bridge, Full Circle pickup, Spirocore strings, ebony fingerboard, 41.25 string length, nicely setup and easy to play, plus bass buggie for transporting. Big sounding E string with lots of growl and sustain. Very reasonable rates plus I can deliver/pickup. I also have amps available. More info about me or a video of me playing this bass: www.slapfiddle.com
Feedback for this person

Feedback

Posted on 12-13-2016 by Joe Kyle
Two thumbs-up for this bass and this solid citizen!! I rented craig's Shen for a one-off private gig in Manhattan. The bass is well set up and easy to play. His very reasonable cartage service proved invaluable to me and made my one-day trip to NYC worry-free. He was easy to deal with over the phone and in person. He responded immediately to phone calls and text messages, which was crucial since I was dealing with a pretty tight schedule and had no room for error. Extremely highly recommended!

Contact Person
Emilio Guarino
Reference Number= 158
973-462-8151
Click here to leave feedback.

emilio.guarino@gmail.com
Description of instrument(s)
Strunal 3/4 sized plywood bass with quiver and brazilwood bow. It has an Eb neck. This is my backup bass, so its usually available. Its always strung with spirocores or kolstein varicores. Bridge is adjustable, and filed to accommodate a K&K Bassmax pickup. I only have one pickup so I can't guarantee a pickup, but feel free to ask. If I'm not using it I have no problem lending it out. Case has built in wheels!
Feedback for this person

Feedback

Posted on 09-02-2014 by Anthony Castellano
Hi I am interested in renting this bass. I am looking for renting for months at a time. Is this the right service? If so, how much would that cost? Thanks so much, Anthony Castellano

Contact Person
Steve Laspina
Reference Number= 105
973 534 7333
Click here to leave feedback.

steve@stevelaspina.com
Description of instrument(s)
Craved wood bass, use to play jazz adjusters on bridge, realist pickup, no bow at this time.
Feedback for this person

Contact Person
Jack Hegyi
Reference Number= 79
856 768-7625
Click here to leave feedback.

jhegyi1@comcast.net
Description of instrument(s)
I am near Atlantic City, Philadelphia areas.... My basses are serviced by David Gage. Here is what I have:..... Maker: Juzek flat back... Origin: Czech... Age (approx.): 90 years... Strings: Thomastik - Orchestral, Spirocore Set... Pickup: Gage's The Realist™ transducer for bass... Bridge: Adjustable.......A David Gage Czech- Ease™ with an Eb neck. with The Realist™ transducer.
Feedback for this person





Don't see anything that you can use? If your gig is close to the border, check the surrounding regions for a listing.

If you end up finding a bass there, please tell the owner about this site.

Try Another Region.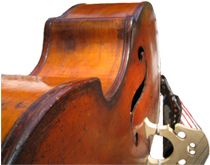 About this site
. This site is
not
a site where you can place an order. It is a place where you can find a list of people to call or email. I don't take any responsibility for the transactions between the musicians who meet through this site. Please use the site responsibly.
Contact Phil
Website design by
Phil Palombi
©2005
www.philpalombi.com
This is a free service, but I do accept donations to help out with the hosting fees. Thank you in advance!