Here are your bass listings for

Utah

Contact Person
Alex Maier
Reference Number= 52
801-647-1247
Click here to leave feedback.

aem111@muw.net
Description of instrument(s)
1998 Klier, Carved German, Dominants, Adjusters, Realist, AMT, FocusIIR, EAi800, Spkrs. NS 4 & 5 string EUB's
Feedback for this person





Don't see anything that you can use? If your gig is close to the border, check the surrounding regions for a listing.

If you end up finding a bass there, please tell the owner about this site.

Try Another Region.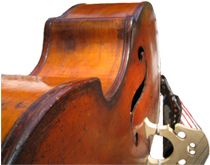 About this site
. This site is
not
a site where you can place an order. It is a place where you can find a list of people to call or email. I don't take any responsibility for the transactions between the musicians who meet through this site. Please use the site responsibly.
Contact Phil
Website design by
Phil Palombi
©2005
www.philpalombi.com
This is a free service, but I do accept donations to help out with the hosting fees. Thank you in advance!