Here are your bass listings for

Brussels - Capital Region

Contact Person
Nicola Lancerotti
Reference Number= 273
32477445030
Click here to leave feedback.

nicola.lancerotti@gmail.com
Description of instrument(s)
1) German anonymous bass, end of 19th century, 107cm, full bridge, mid-low action, at the moment Belcanto strings but most commonly Evah Pirazzi or Zyex strings, Realist pick-up, perfect for jazz but nice tone with the bow. 2)Chinese plywood travel bass, detachable neck, 109cm, plastic core strings (Zyex), mid action, K&K Bass Max pick-up.
Feedback for this person

Feedback

Posted on 08-19-2019 by Raimon Corbella
Hello, I'm a bassist from Barcelona ans I need a double bass to play on September the 8th. We are currently going to Waterloo but as we fly to Brussels it will be possible to pick it up. Could you please let me know about prices? My personal email is raicorbella@gmail.com. Thank you!





Don't see anything that you can use? If your gig is close to the border, check the surrounding regions for a listing.

If you end up finding a bass there, please tell the owner about this site.

Try Another Region.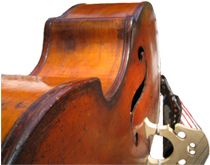 About this site
. This site is
not
a site where you can place an order. It is a place where you can find a list of people to call or email. I don't take any responsibility for the transactions between the musicians who meet through this site. Please use the site responsibly.
Contact Phil
Website design by
Phil Palombi
©2005
www.philpalombi.com
This is a free service, but I do accept donations to help out with the hosting fees. Thank you in advance!