Here are your bass listings for

Wisconsin

Contact Person
Daniel Wolff
Reference Number= 300
920.229.9978
Click here to leave feedback.

Wolffd15@gmail.com
Description of instrument(s)
Shen SB190 hybrid flat back Underwood pickup
Feedback for this person

Feedback

Posted on 09-08-2016 by Amy Friedricks
Need a bass from Nov 3-6. Can return it either 6th or 7th (would prefer 6th) am flying from SF so will be coming from airport How much do you charge? thanks

Contact Person
Vince Jesse
Reference Number= 181
608-204-9590
Click here to leave feedback.

info@doublebassworkshop.com
Description of instrument(s)
Hi. I'm a luthier specializing in upright bass. The shop is in Monona, Wisconsin and my web site address is www.doublebassworkshop.com I usually have a couple basses to rent including a Romanian Panormo copy and a really nice 1937 Kay.
Feedback for this person

Contact Person
JOhn Mesoloras
Reference Number= 54
608-270-9614
Click here to leave feedback.

johnmesoloras@yahoo.com
Description of instrument(s)
19th Century Large 3/4 German Flatback. Adjustable Bridge, Full Circle and Underwood Pickups. Set up for Jazz with Obligato. also: GK MB150E or SWR Rig if needed.
Feedback for this person





Don't see anything that you can use? If your gig is close to the border, check the surrounding regions for a listing.

If you end up finding a bass there, please tell the owner about this site.

Try Another Region.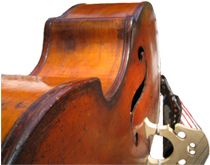 About this site
. This site is
not
a site where you can place an order. It is a place where you can find a list of people to call or email. I don't take any responsibility for the transactions between the musicians who meet through this site. Please use the site responsibly.
Contact Phil
Website design by
Phil Palombi
©2005
www.philpalombi.com
This is a free service, but I do accept donations to help out with the hosting fees. Thank you in advance!