Here are your bass listings for

Connecticut

Contact Person
Uptonbass.com
Reference Number= 63
860-536-7555
Click here to leave feedback.

gary@uptonbass.com
Description of instrument(s)
We have a selection of carved and ply double basses that are available for short time rental. Players in the local and not so local area, we are 1.5 hrs from Boston about 2.5 from NYC. Foxwoods and Mohegan Sun casino are 20 minutes from our shop. Also can offer repair and setup on the spot as needed. If you are in the area, give us a call. Pickup, amp, not a problem, case etc. setup as you need just call in advance so we can have the right bass for you. http://www.uptonbass.com
Feedback for this person

Feedback

Posted on 06-23-2006 by Gary Upton Birkhamshaw
also see us at http://www.uptonbass.com

Contact Person
John Young
Reference Number= 55
(203)752-1182
Click here to leave feedback.

jylists@mindspring.com
Description of instrument(s)
I have a late-30s Kay M-1, adjustable bridge, Helicore Hybrids, set up by Mike Shank. Plays nicely. K&K BassMax pickup. It's my only upright, so it's only available for one-offs, if I'm not gigging with it myself.
Feedback for this person





Don't see anything that you can use? If your gig is close to the border, check the surrounding regions for a listing.

If you end up finding a bass there, please tell the owner about this site.

Try Another Region.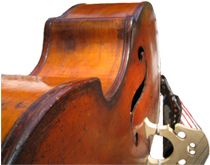 About this site
. This site is
not
a site where you can place an order. It is a place where you can find a list of people to call or email. I don't take any responsibility for the transactions between the musicians who meet through this site. Please use the site responsibly.
Contact Phil
Website design by
Phil Palombi
©2005
www.philpalombi.com
This is a free service, but I do accept donations to help out with the hosting fees. Thank you in advance!