Here are your bass listings for

District of Columbia

Contact Person
Shawn Alger
Reference Number= 341
(530) 908-3976
Click here to leave feedback.

shawnalger@gmail.com
Description of instrument(s)
Anton Dietl: Early 20th c. - Fully Carved, Good all-purpose bass for arco or pizz. playing. Bel Canto Strings. Fishman BP-100 Pickup available.
Feedback for this person

Contact Person
Mark Bergman
Reference Number= 175
2036067538
Click here to leave feedback.

markbergman@cox.net
Description of instrument(s)
Kolstein Di Vicenza 750 model. 41 inch string length. Ebony Bridge adjusters. Helicore medium strings. No pickup. Vitali French bow available.
Feedback for this person





Don't see anything that you can use? If your gig is close to the border, check the surrounding regions for a listing.

If you end up finding a bass there, please tell the owner about this site.

Try Another Region.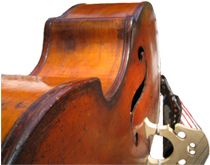 About this site
. This site is
not
a site where you can place an order. It is a place where you can find a list of people to call or email. I don't take any responsibility for the transactions between the musicians who meet through this site. Please use the site responsibly.
Contact Phil
Website design by
Phil Palombi
©2005
www.philpalombi.com
This is a free service, but I do accept donations to help out with the hosting fees. Thank you in advance!